Experts in LED Lighting
Since its creation in 2013, ACTiLED Lighting has innovated by developing eco-efficient LED lighting sources powered directly from 230V.
Our LED engines do not require an external power supply and connect directly to 230V mains voltage. They have a very long lifetime equivalent to that of LEDs (at least 50 000 hours), which represents several years of operation. Based on these technical innovations, ACTiLED designs particularly compact luminaires that are easy to install.
The company is positioned as a designer and manufacturer of luminaires for professionals: architects, design offices, integrators, installers, industrialists, etc. and provides standard or custom-made products as well as retrofit solutions.
Electronic and mechanical designing expertise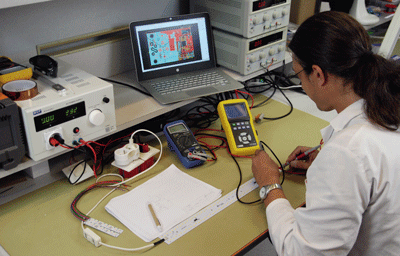 Our design department has extensive know-how in electronic design, mechanical design, 3D prototyping, photometry, lighting control and dimming systems.
Our team efficiently support our customers in their projects for either developing an electronic board integrating LED source and intelligent functions, or designing a complete lighting luminaire,
Our developments can deal with all types of power supply constraints: 24VDC, 48VDC, 120VAC, 230VAC, etc. In addition to lighting and smart lighting technologies, we are also developing Lifi communication solutions using light as a geolocation or data transmission medium.
Standard and custom-based products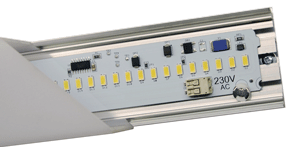 ACTiLED Lighting's offering includes a range of standard products but stands out for its ability to offer tailor-made products and services as well as retrofit solutions.
ACTiLED also offers control systems (dimming, DALI control, DMX, etc.) to support its customers in the optimization of their lighting installation.
"Made in France" Quality

Our products are assembled in our manufacturing plant in Nantes, in compliance with the rules of manufacturing and quality management.
All products comply with current standards and are CE certified.
Tell us about your needs and projects – contact us